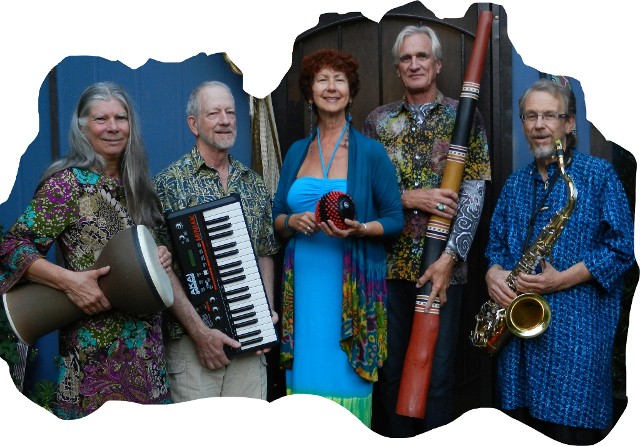 BRINGING RHYTHM INTO YOUR LIFE
Gail Crawford, Bill Taylor, Sue Anne Bennett, Rex Womack and Paul Morehouse
Bringing You Indigenous Jazz

OUR NEXT SHOW!! 2019

Drumsum will be playing at the Pan Gaia Festival

Saturday , June 8, 12pm - 1 pm

VFW Grounds, 8990 Kruitof Way Fair Oaks, California

Festival is Saturday 10am to 10pm, Sunday 10am to 6pm

The Pan Gaia Festival is a FREE event, lots of fun, and a very nice vibe. Drumsum will be performing on Saturday at 12pm. Drums, Didgeridoos, Kalimbas, Flutes, electric Keyboard, bass guitar, and around the world percussion, oh My!


For more information……………

www.pangaiafestival.com

Their web site has lots of information and also a map with driving directions. You can get information on being a Vendor, Presenter, or Volunteer.


On Sunday, June 9, we will facillate a Drum Circle which will start at noon. Come, enjoy and be part of the the Drum Circle. The Drum Circle, though outside, will in the shade. Seating and a few extra Drums and percussion will be available. No experience needed!

*******************************************************************************************************************************

******************************************************************************************************************************

::::::::::::DRUMSUM'S NEWS:::::::::::::::
Join our Fan Club at www.reverbnation.com/drumsum and pick up special gifts at our shows.

++++++++++++++++++++++++++++++
OUR NEW CD IS HERE!! Comsit produced our new CD. Pick one up at our live performances. $15
********************************************

**********************************

Drumsum provided the soundtrack for Obsidian Butterfly's new video. It can bee seen at http://www.sacredfiredance.com/video.html
Select Obsidian Butterfly v2 from Rusty Rogers on Vimeo


We can also be seen and heard on Youtube. Here are the links to cut and paste;

http://www.youtube.com/watch?v=CLcoAxHP1y4
The above was taken at a party held by Drumsum.

http://www.youtube.com/watch?v=QDnc2qX71P0
http://www.youtube.com/watch?v=EgQiEx2zGfs
http://www.youtube.com/watch?v=6hVrqSfFj2U

http://www.youtube.com/watch?v=MQhFEiXJApg&feature=PlayList&p=2D1AE75B2A322868&playnext_from=PL&playnext=1&index=1


Directed by Rex Womack, DRUMSUM is dedicated to developing the healing rhythms in your life.
Email me at Rex@drumsum.com

Drumsum uses Congas, Kalimbas, Djembes, Mridangam, Didgeridoos, Klang Yaw, Bongos, Flutes, Percussion Toys, Cajons, Bass Guitar, Synth Wind Instruments, Harmonicas, Kalimbas, electronis Drums, vocals and of course, etc., etc., to take you to a level of great enjoyment, bliss, meditation, and/or movement.



***********************************************************
Bowl Ceremonies using Tibetan Bowls, Conchs, and Gongs for Passages, Healing, Celebration, and Meditation are also available.
++++++++++++++++++++++++++++++++++++
******************************************************************************

Drumsum brings Drum Circles and Percussion Performances to your group or venue.
Our band Drumsum, is a 1-7 member band that interpetes various rhythms from around the world with Vocals, Didgeridoos, Percussion, and melodic instruments, providing meditative, trance dance, and multi cultural rock music.

We have performed for the Blood Moon Zoo, Sacramento's Fire Spectacular, Cheb i Sabbath's CD Release Party in Temple San Francisco, SWAN Day, KVMR Celtic Festival, Rocking the Gateway, Fairy Mid-Summer Festival, Harvest Festival, Temple San Francisco, 1st Annual Shakerman's Festival, 2nd or 3rd Shakerman's Festival, First Night Martinez, 2nd Saturday Art @ the Brickhouse, Gumbo Parade in Benicia,and numerous Horse Cow events.
Our music was used on KVIE for a show on Sacramento's 2nd Saturday.
We have been playing in the Sacramento Area for Obsidian Butterfly ,an outstanding Fire Dance Troupe. Check out their web site at http://sacredfiredance.com/


Other musicians are welcome to be a part of us. If you are interested in being a part of this band, please Email me (Rex@drumsum.com) or call me at 916 844-4343.

The Band is available for performances in different contexts. The full band for all out fun and dance, or a smaller version of 1 to 3 members for a more meditative sound. We play Drums, Keyboards, Didgeridoos, American Indian Flutes, mouth harps, Tuvan throat singing, Kalimbas and/or Tibetan Bells. As a smaller band, we can provide a perfect sound for meditation or estatic Yoga.
We can also organize and facilitate Drum Circles for most any size group and set it up in a way to enhance your or your company's goals.(Arthur Hull trained)
RECENT PAST SHOWS::::::::::::::::::::

July 30, 2016 Saturday and July 31 Sunday Sunday Cat and fiddle Festival $5.75

At Fairytale Town 3901 Land Park Drive, Sacramento, CA !

Check out their web site for more information at www.fairytaletown.org/

Aug 13, 2016 A special combination of Drumsum will open the 13th Annual FIRE SPECTACULAR! at 7pm

3901 Land Park Drive, Sacramento, CA Fire Dancers, vendors, and Fun

More Information at http://www.sacredfiredance.com


Sept 18, 2016 39th Annual Jewish Food Festival 9am to 3pm

Music all during the event BUT Drumsum performs at 11am FREE!

Congregation Beth Shalom at 4746 El Camino Ave, Carmichael, CA

GREAT food, many Craft Vendors, and wonderful people on stage and off!

Aug 1,, 2015 1 - 3 PM, We will be playing at the Sacramento Fine Arts Center 5530B Gibbons Dr.,Carmichael, CA

We will be playing for the Artist Reception for the Artists who entered the "In the Style of the Old Masters" show. This place has fantastic art of all varieties and offers many different art classes . Check out their web site WWW.SACFINEARTS.ORG

And Yes, we will have OUR NEW CD, INDIGENOUS JAZZ! for sale.

Sacramento Fine Arts Center Friday Jan 8 at 6 pm. Great Art, Music , Snacks, Company. SACRAMENTO FINE ARTS CENTER 5330B Gibson Dr., Carmichael, CA FREE Desserts delicacies, music in the midst of the visual beauty of the Animal House Exhibit.

Drumsum was selected to play at the California International Marathon (CIM) which is Sunday, Dec. 6. We will be near the finish line at 11th and L St, across from the Capitol Building in Sacramento, CA. We play from 9am to 12ish. CIM not only qualifies runners for the Boston Marathon but also qualifies them for a spot in the Olympics. They have to finish in 2 hours 18 minutes or less. Come out and cheer the Runners and Dance to our music.

SATURDAY, SEPT 13 SACRAMENTO PAGAN & HARVEST FESTIVAL

Kwel Music , Dancing Food, Interesting Vendors, Rituals and More!!!

SATURDAY June 21,
Fourth Annual Celtic Midsummer Faerie Festival

Drumsum will have Ken Rienhart, Patter and Penny Hatfield, Jeff Camp, Oscar Visbal, Sue Anne Bennett and me Drumming, Didgeridooing, Fluting, Bassing and a bit of etc.ing


THE 6th ANNUAL FIRE SPECTACULAR!!!!!!!!!!!!!!!!!!!! Saturday September 21 5:30pm to 10pm William Land Park Amphitheater 4000 S. Land Park Dr., Sacramento




We will be playing for The Francis House at their volunteer/donor appreciation party Thursday May 23 4:30 - 6:30 pm.

Sept 13- 15 DETAILS: www.niainnature.com
Members of Drumsum will emerge with Everyone in Rhythm to provide live music for portions of NIA in NATURE RIVER RETREAT

May 5 International House in Davis, CA
Drumsum will be playing at the International House in Davis.

March 24
We are very honored to be invited back to play at the private party celebrating Nowruz, the Afghan and Persian New Year this Sunday!
Saturday Feb 2 , 6 p.m.
Bamiyan Afghan Restaurant 7622 Greenback Ln. Citrus Heights
(916) 725-6009
****************************************
OBSIDIAN BUTTERFLY'S
THE 5th ANNUAL FIRE SPECTACULAR!!!!!!!!!!!!!
August 11th, 2012



Rex and the Didgeridoo
Saturday Aug 20
SPCA Benefit "I've been Picked" book signing, Vendors, Food, Clowns, Dogs, Cats and LIVE Music by Drumsum
Trends-n-Treats 8929 Madison Ave., Fair Oaks, CA


Wednesday July 13
Fair Oaks Chamber of Commerce Mixer
Outdoors at 8909 Madison Ave, Fair Oaks


!!!!DRUMSUM AND OBSIDIAN BUTTERFLY BACK TOGETHER AGAIN!!!!
We will be playing at the Sacramento Metal Arts Guild 1st Anniversary and Art Fundraiser.
(Their web site is http://sacmetalartsguild.wordpress.com)


===================================
Drumsum played music and tibetan Bowls for;
Meditation, Yoga, Ecstatic Dance, and Sound Healing at the
Studio for Sacred Dance 712 57th St. Sacramento
:::::::::::::::::
Private Party at The Cabin in Citrus Heights Sept 5, Sunday
Louisa's Birthday! Friends of Drumsum are Invited. Email or call me for details. BBQ, Belly Dancers, Drumsum, and lots of FUN!
********************************************************************

Sat. Sept 18: 12th Annual Harvest Moon Pagan Festival
Fair Oaks VFW 8990 Kruithof Way Fair Oaks CA 95628 6ish to 7ish?

DINNER PARTY AT BAMIYAN AFGHAN RESTAURANT
WITH OBSIDIAN BUTTERFLY
1121 White Rock Road in El Dorado Hills (www.afghancuisine.com)


Friday September 18 Atria El Camino Gardens
Private show for residents. Atria has over ten sites in California, and is set up for Elder living. How kwel can this place be, booking our band Drumsum? Sounds like the place I would like to live when I grow up!
They actually will have listened to a week of music from around the world. Drumsum will end the series with our mix of world fusion, kind of the sum of all that they have experienced.

Saturday 19 September 11 Annual Harvest Festival Fair Oaks
"Sacramento Pagan Pride Day"

MOVE YOUR BODY at The Bo Tree 815 4th St in Davis. Freeform Dance

THE 2nd ANNUAL FIRE SPECTACULAR!!!

BENEFIT for the HORSE COW

Stellar Studios 202 23rd Street, Sacramento CA 95816. Showcasing local Artists

Bamiyan Afghan Restautrant, 1121 White Rock Road in El Dorado Hills (www.afghancuisine.com).

Private Drum Circle for the Can Tree Charity

Fund raiser for (and at) the Horse Cow. 111 North Harbor Blvd., West Sacramento

FurBall (Private event) April 11

April 23 Tylor and Molly's Wedding!

2008
DECEMBER 12 7 to 9 pm We will be playing for the GRAND Opening for Eartheart in Nevada City, CA., with a
Blessing Ceremony with Tibetan Bowls, 408 Broad St. #7, Neveda City
*************************************


FAT CONGAS sponsors this band! Regardless of the sponsorship, Fat Congas make the BEST CAJONS we have ever played!

A number of people have asked me about the American Indian Flute I play. It was made by Stephen DeRuby and is his Trail Flute in the key of A. His web site is www.deruby.com

The long stick one is made by http://fallenbranch.com/ who make very interesting, one of a kind flutes.

The double drone V flute is a High Spirits flute in the key of C.

The middle Eastern sounding flute is by the Fairy Ring Mushroom People. It is tuned normally, but played to sound that way.
*************************************

WEB Links;
Obsidian Butterfly www.sacredfiredance.com

Our 'indoor' light toys http://www.flowtoys.com

Fairy Ring Mushroom Flutes (in Citrus Heights) http://harmonyflutes.com/